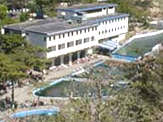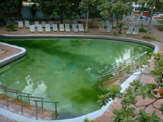 Is a center built in the second most important thermal waters of the World. A very special place for therapeutic treatments and for relaxation. At only 15 minutes away from the city of Valencia.
Thermal Center Services
· 3 Public Swimming Pools (paid general access)
· 1 Private Swimming Pool (only for guests)
· 2 Medicinal Mud Pools
· Sauna
· Locker Rooms
· Infirmary Services
· Spa with Services such as mudtherapy, hydrotherapy, acupuncture, etc.
Lodging Services
· 103 Rooms (Standards, Suites and two Executive Suites)
· Maximun capacity of 6 people in the executive suite
· Fridge (available in Suites)
· Air Conditioning
· Satelite TV
Spa Services
· More than 30 treatments to choose and to improve your health and beauty.
Prices per room, per night. Tax Included.
Includes mud baths.
These rates are vaild only for reservations throught this reservations center
These rates are valid only for banking deposit in cash, checks or wire transfers.