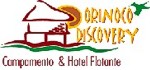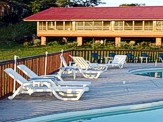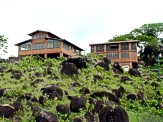 With a Port of direct access to the Orinoco River, Orinoco Discovery Camping is located near the legendary Castles of Guayana and is contiguous with the south of the Orinoco River, its spectacular view can be enjoyed from different points from the camping, as well as, extensive plains and distant mountain ranges.
Facilities and Services
09 rooms with bath with shower plus a suite for a whole capacity of 26 people, distribuited by the following way:
- 04 double room with bath and shower
- Main Building of 04 rooms + Suite
- Tours and Activities to the Orinoco River
- Vegetables cultivation withou chemical products, exclusively for supplying our property. Am Ecological Concept in all senses.
Prices per person, per night in pool rooms and big house. Little house price is per night with maximun capacity for 6 people Includes: Accomodation in confortable roon with private bathrooms, All meals, Observation of flora and fauna of the area.
These rates are vaild only for reservations throught this reservations center
These rates are valid only for banking deposit in cash, checks or wire transfers.